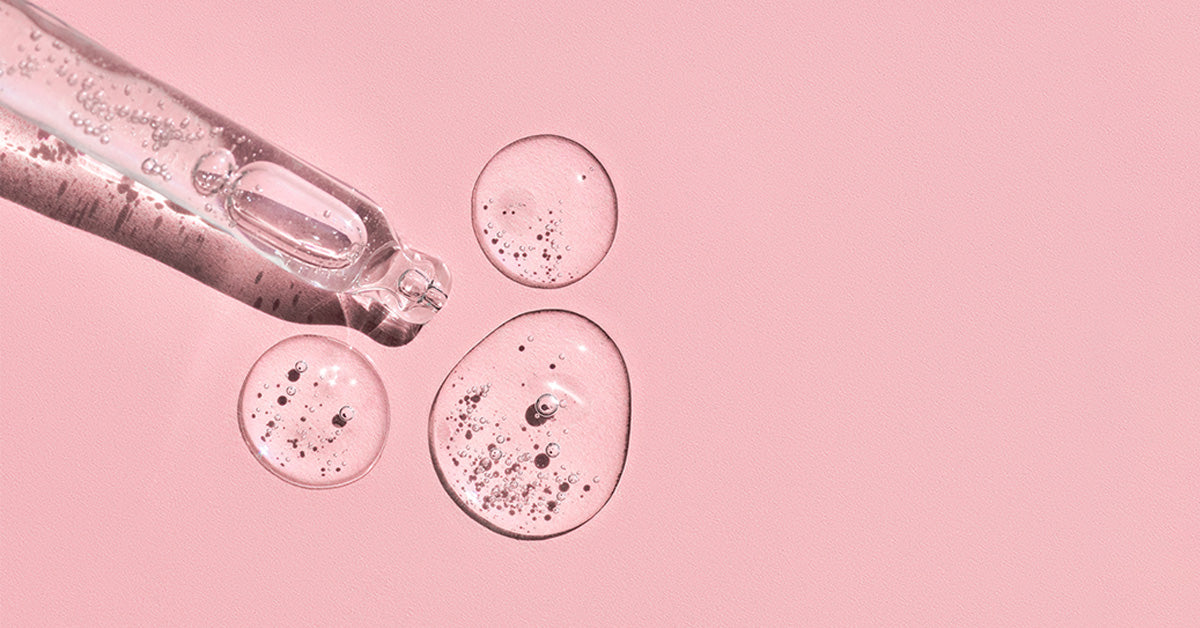 Hyaluronic acid has become quite buzzworthy in the skincare world, but what exactly is the function of this talked-about ingredient? And what products are most effective? We take a deep dive into what, why, and how this skin savior became a household name.
What is Hyaluronic Acid?
Hyaluronic acid is often synonymous with hydration. As a humectant that occurs naturally in the skin, hyaluronic acid draws water to itself like a magnet, binding to the water in cells for a bouncy, youthful complexion. "Hyaluronic acid is a molecule that holds 1000x its own weight in water," says Esthetician Allison Shoemaker. "This how it helps keep the skin plump and healthy." As a result, hyaluronic acid is a common—and effective—skincare ingredient for smoothing fine lines and renewing aging skin.
The Main Benefits of Hyaluronic Acid for the Skin
"One of the key benefits of hyaluronic acid in topical formulations is the ability to help bring moisture into the skin," says Epigeneticist Dr. Neal Kitchen. "Hyaluronic acid has many uses and can be taken orally through a supplement, used as a key ingredient in topical serums, and even used as an injectable filler."
As a naturally occurring substance in the body, hyaluronic acid has a variety of benefits beyond healthy, supple skin: Improving wound healing response, relieving joint pain, soothing acid reflux symptoms, relieving dry eye discomfort, and preserving bone strength.
When used in skincare, hyaluronic acid is a fantastic hydrator. It helps reduce the appearance of wrinkles and gives skin a glowing, bouncy look.
What Skin Type Is Hyaluronic Acid For?
Luckily, hyaluronic acid is suitable for all skin types. It's one of the reasons most HydroPeptide serums and moisturizers contain hyaluronic acid as an active ingredient. It's an excellent hydrator, very gentle, and perfect for all skin types—even sensitive skin.
How Do You Use Hyaluronic Acid in Skincare? 
"Hyaluronic acid is something our bodies naturally produce," says Allison. "However, as we age and are exposed to environmental aggressors, the hyaluronic acid we have in our skin breaks down more easily, and the production diminishes. Using a hyaluronic acid booster, like Daily Drench, helps replenish hyaluronic acid in the skin and supports your skin's ability to make more of its own."
"When looking at active ingredients in topical skincare we always look at two critical pieces: The immediate benefits from the ingredient and the long-term needs of the body," says Dr. Neal. "Daily Drench is formulated to get the immediate benefits of hyaluronic acid—like hydration-- while also encouraging our skin to produce more hyaluronic acid on its own."
Triluronic acid is a great ingredient option for both needs. Using triluronic acid alongside other signaling molecules such as the Syn-Hycan peptide supports the long-term health and hydration of our skin by promoting your skin's own production of hyaluronic acid.
What Makes Daily Drench Hyaluronic Acid Peptide Booster Effective?
"Daily Drench is a unique option for boosting hyaluronic acid in the skin," says Allison. "It not only delivers three different types of hyaluronic acid to the skin but also stimulates the skin's ability to make its own hyaluronic acid through the power of signaling peptides." 
Daily Drench contains triluronic acid—low, mid, and high-weight hyaluronic acid. The different weights go to different layers of the skin and have various functions in keeping the skin hydrated and healthy. "The types of weight we use in Daily Drench help with skin barrier repair, reducing inflammation, and stimulating the skin's ability to make its own hyaluronic acid," says Allison. "It's also a very concentrated product, so a little goes a very long way!"
Which Other HydroPeptide Products Have Hyaluronic Acid?
The best way to enjoy the full benefits of hyaluronic acid is with a complete skincare routine: Cleanser, serum, moisturizer, and SPF. HydroPeptide offers at least one option for each step with hyaluronic acid—including face masks and targeted eye treatments so you can keep your skin plump, firm, and healthy at any age.